Precishims.com is a division of M P Jain Tubing Solutions LLP. M P Jain Tubing Solutions LLP has been manufacturing shims and related products since 1972, we have specialized in Shims Manufacturing as per your specifications and product drawings. We are doing this cost-effectively by stocking a wide variety of raw material types and sizes and by utilizing the most efficient production technologies available ? all aimed at reducing tool cost and production time. To meet your urgent needs of process control, minimal tool investment, long-term part repeatability, prototyping and low unit cost we use a variety of stamping methods and laser technology. we also invested significantly in secondary internal processes, including heat treatment, grinding, machining, finishing, and passivation resulting in quality controlled product and shortened delivery times.
We strive to provide our customers with excellent customer service, "On-Time" delivery, and the highest quality products; our vendors with the relationship that will most benefit the end user; and our employees with the best environment to spend each working day. Exceptional Delivery is applicable to everything we do. We have the technical product know-how and manufacturing expertise to assist your engineers in designing the most cost-effective Shim.
Our products have been used for both original equipment manufacturing and machinery maintenance/alignment. A large portion of our customers uses our products to align and balance machinery such as motors, pumps, fans, blowers, turbines, compressors, die stampers, punch presses, gearboxes and journal boxes in steel mills, chemical plants, paper mills, refineries, power plants, and HVAC facilities.
---
Quality Policy
A rigorous system of quality management is in place to ensure that each manufactured products conform to International standards of excellence. Quality assurance is the threshold of all the activities and Stringent quality control measures are applied in its in-house facilities for forging, machining and heat treatment processes. We take pride in offering quality products, manufactured in conformance with International standards.
We strongly believe that adherence to a high standard of quality is a pre-requisite for maintaining a leadership position in the business. Keeping the quality aspects utmost in our mind, we follow a system of quality control as per International Standard.
---
Mission
One-stop solution for Precision shims products Delivering operational excellence through continuous technological up-gradation Continual growth through customer service, innovation, quality and commitment Responsible & Law abiding Corporate Citizen Committed to Green Environment To be the organization of choice & a great place to work.
---
Vision
To be counted amongst the most respected and preferred enterprises globally.
---
We are pleased to work with..
Industries we serve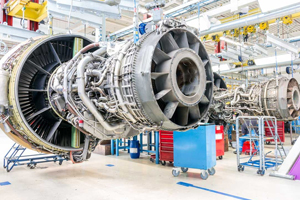 Aerospace Industry
---
Petrochemical
---
HVAC
---
Food Processing
---
Steel Mill